605 apartment units | 1-4 Bedrooms | Lentor Central
Lentor Modern is the upcoming mixed-development project by GuocoLand situated near to, and integrated to the Lentor MRT station. Lentor Modern mixed development of three 25-storey towers housing roughly 605 residential units with commercial, food and beverage and retail space on the ground floor.
Lentor Modern is a new development situated in Lentor Hills Estate, between Yio Chu Kang Road and Lentor Drive. It is in the primarily residential area of Ang Mo Kio, District 20 of Singapore, and right next to the future Lentor MRT station along the Thomson-East Coast Line. The site has a land area of 17,279.9 sq m with a maximum GFA of 60,480 sq m.
Lentor Modern is a short 3 minute walk from the upcoming Lentor MRT Station on Thomson-East Coast Line (TEL). Nestled in between Singapore's metropolitan hub and its majestic nature reserves, this location is perfect for those who want the best of both worlds. 
For those needing to take the North-South line, Yio Chu Kang MRT station is also close by. Furthermore, there are plenty of shopping options and the development is also well-connected to major roads and expressways like the future North-South Corridor (NSC). NSC and TEL will open up even more options for residents of Lentor Modern.
It's only a 14-minute drive to Woodlands Town, 20 minutes to Orchard Road, and 25 minutes to Changi Airport – making it incredibly convenient for both work and play. Additionally, the proximity to the Central Expressway (CTE) and Seletar Expressway (SLE) provides seamless access to other parts of Singapore.
Lentor Modern at Lentor Central
The Lentor Modern Condo is the ideal location to store all of your family's memories. This location has a lot of amenities to make your life easier, according to the owners. Luxury living has a high-octane exhiliration that you should celebrate. Bathe in the tranquility of a carefree world. Being a resident of Lentor Hills Condo allows you to effortlessly cross the divide between work and home at any time.
Orchard MRT is just a 9-stops ride away and Thomson Plaza is just a 2-stops ride from Lentor Modern. This is an excellent example of a development that is located in accordance with the Government's Master Plan to build towns that are thriving and self-sufficient, with everything you need being conveniently accessible without having to travel too far.
Key Selling Points
Lentor Modern nestled the edges of Ang Mo Kio, Thomson, Yishun, Sin Ming, Central Water Catchment, and Bishan.
It is planned to be built as a mixed development with approximately 

605

 residential units and 86,100 square feet of commercial space. It has a site area of 185,139 square feet.
The Lentor MRT Station, on the Thomson-East Coast Line (TEL), is a short 3 minutes walk from Lentor Modern Condo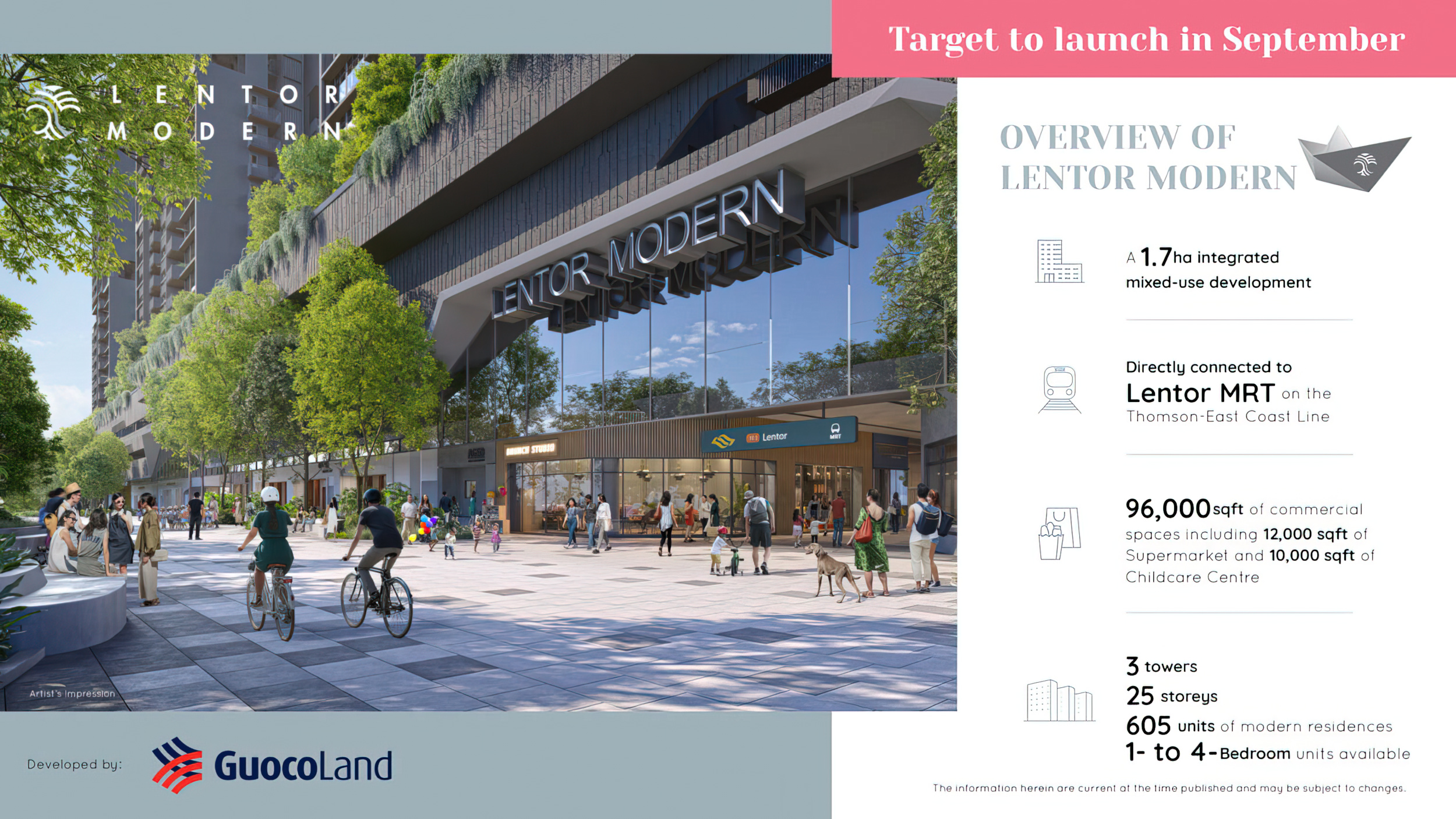 Lentor Modern Factsheet / Project Information
Lentor Modern is a new condo with a 99 year lease, located at Lentor Central in District 26.
With the new Lentor MRT station integrated into the development, it is estimated that there will be three 25-storey towers with around 605 residential units.
| Project Name | Lentor Modern |
| --- | --- |
| District | 28 |
| Tenure | 99 Years Leasehold |
| No of Units | 605 units |
| Bedroom | 1-4 Bedroom |
| Showflat Date | Q4 2022* |
| Selling Price Range | S$1.1M – S$6M per unit. |
| Selling Price Range | Form S$ 1,880 |
| Nearest MRT | Lentor MRT Station |
| Address | 1 Lentor Drive, Singapore 789361 |
| Site Area | 17,279.9 m2 (186,000 sq ft) |
| Floor Area | 60,479.65 m2 (651,003 sq ft) |
| Plot Ratio | 3.5 |
| Car Park | 605 Lots |
| Developer | GLL D Pte Ltd (Unit of GuocoLand Limited) |
| Description | GuocoLand is the developer of GuocoLand. The target project to launch in Q4 2022, and for more information, including project details, floor plans, and showflat appointments, can be found at https://staging.lentorresidence.sg/. |
Find Out Latest Project Details
Launching Q3 2022! Register now for showflat & updates.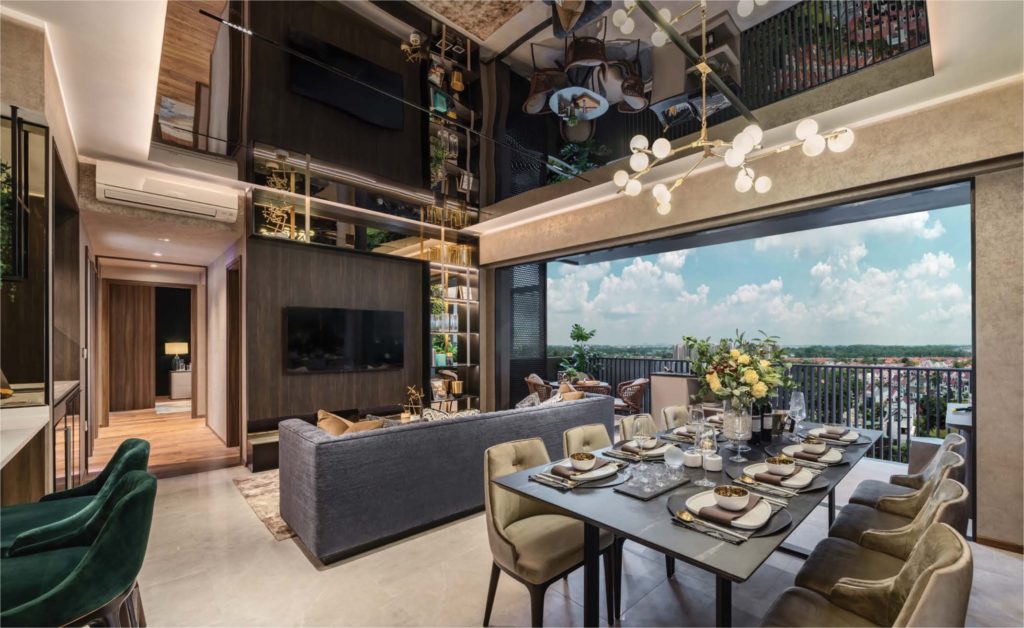 Lentor Modern Floor Plans
Spacious Modern Living.
Discover a contemporary sanctuary with organic curves inspired by the parks' very essence. Each turn offers a delightful surprise, giving you the sense that you have never truly left nature because each one offers something new.
Unit Layout
Even if your entertainment area is easy to maneuver, it moves with you. With all of the amenities you need, wake up and go to sleep. Bedrooms are designed with storage spaces that don't clutter but are functional.
Unit Description
Type
No. of
Units
Strata Area
(sq m)
Strata Area
(sq ft)
1 Bedroom
A1S
63
49
527
2 Bedroom + Flex
B1 / B2
231
63 / 68
678 / 732
3 Bedroom + Flex
C1 – C6
248
90 – 105
969 – 1,130
4 Bedroom + Flex
D1
63
142
1,528
Total Number of Units
605
Register now for project updates. We will WhatApp you latest price list & floor plan.
Lentor Modern Site Plans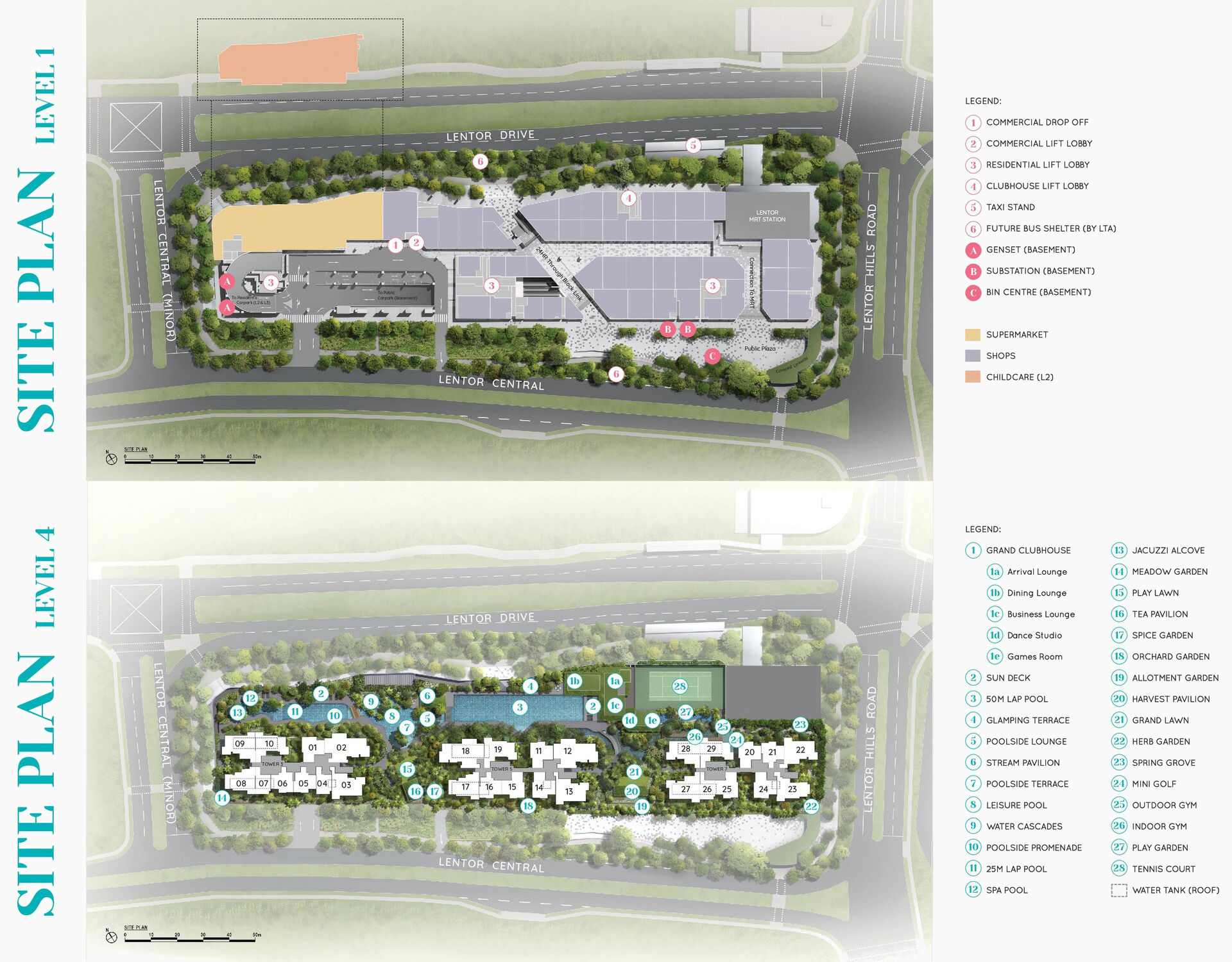 Lentor Modern is the first batch of GLS plot land in the Lentor Hill Estate released for sale by URA and the first new launch in that estate.
The URA plans show that the currently forested ground between the landed homes of Teachers' Estate and Lentor Estate will be covered. New roads like Lentor Hills Road and Lentor Gardens, and new parks like the Linear Park and Hillock Park will be featured.
The 1.7-hectare Lentor Modern plot is situated near large nature reserves and parks, including the 50-hectare Thomson Nature Park, Bishan Park, Upper Seletar Reservoir Park, Lower Seletar Reservoir Park and Lower Peirce Reservoir Park.
Where Convenience Meets Luxury.
The infinity pool, lap pool, fitness and yoga room, gym and spa, clubhouse, sundeck, pool bar, BBQ pits, eating pavilion, sky garden, leisure garden, functional area are among the facilities available. It guides every aspect of life from the beautiful gardens to the city's vibrant colors. Every moment should be treasured, analyzed, and respected.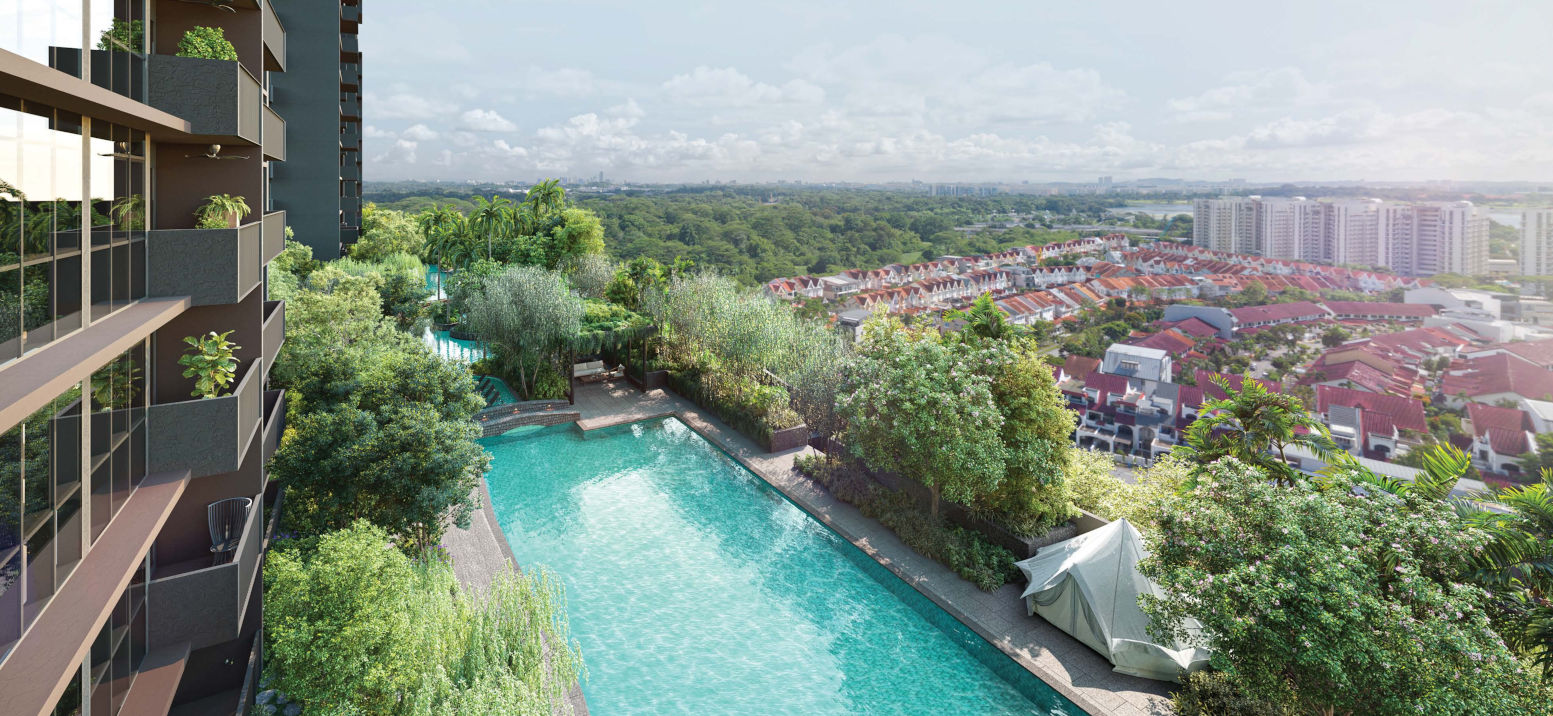 Condo Facilities
Swimming Pool with Hydro Massage Bed and Seat
50m Lap Pool
Children's Pool
Children's Playground
Relaxation Pavilion
BBQ Deck
Pebble Stream
Sun Decks
Clubhouse Comprising
Entertainment Suite
Gymnasium
Sky Gardens
Relaxing Lounge
Guardhouse
Get Latest Condo Site Plan
Register now for project updates. We will WhatApp you latest price list & site plan.
Lentor Modern Pricing
Unit Description
Strata Area
(sq ft)
Preview
Pricing
Share
Value
Estd Monthly
Maintenance
1 Bedroom
527
$1.088M Up
8
$352 + GST
2 Bedroom + Flex
678 / 732
$1.388M Up
9
$396 + GST
3 Bedroom + Flex
969 – 1,130
$1.878M Up
9 / 11
$396 / $484 + GST
4 Bedroom + Flex
1,528
$2.918M Up
11
$484 + GST
*Price subject to change anytime.
Price range (indicative)
From $1,088,000 – $2,918,000
Sale psf range (indicative)
From S$1,880
---
Pricing Background
The Lentor Central site's GLS (Government Land Sale) tender was fiercely competed. On July 21, 2021, it was awarded to nine bidders. Maybe because this is one of the most appealing properties to hit the market, developers' remaining inventory of unsold units.
"The reaction observed in this tender shows developers' considerable optimism in the suburban home sector, which has been exhibiting indicators of pent-up demand amid dwindling supply and lack of fresh launches in the OCR," according to one industry specialist.
186,000 square feet (sq ft) make up the facility. The permissible build up is roughly 651,000 square feet gross floor area, based on a plot ratio of 3.5. Commercial space accounts for roughly 86,110 square feet.
Just 4.5% higher than the second highest bid, GuocoLand submitted the highest offer of SGD$784,113,000. The total cost of the proposal is $1,204 PSF PPR (per square foot per plot ratio), which translates to a land cost.
The break-even point is roughly $1,900 PSF when all of the regulatory, financing, development, and overhead expenditures are considered. However, construction material and labor costs have risen dramatically in recent years, meaning that skilled employees can now cost three times what they used to.
Lentor Modern Nearby price list
| NEARBY NEWER CONDO AROUND LENTOR MODERN AT DISTRICT 20 | HIGHEST TRANSACTED SELLING PRICE (PSF) FOR PAST 12 MONTHS | COMPLETION |
| --- | --- | --- |
| LATTICE ONE | $1,946 | Under Construction |
| ADANA @ THOMSON | $1,840 | 2018 |
| THE PANORAMA | $1,715 | 2017 |
Lentor Modern indicative price
| | |
| --- | --- |
|   | PSF$ |
| A) Land Cost | $1,204 |
| B) Construction Cost (estimate) | $350 |
| C) Profit Margin + Other Expenses (30% x [A+B] ) | $466 |
| Estimate Launch Price (SUBJECTED TO CHANGES) (FOR EDUCATION PURPOSES, NOT FINAL SELLING PRICE) | $2,020 |
Latest Price List & Unit Mix
Register now for project updates. We will WhatApp you latest price list & unit mix.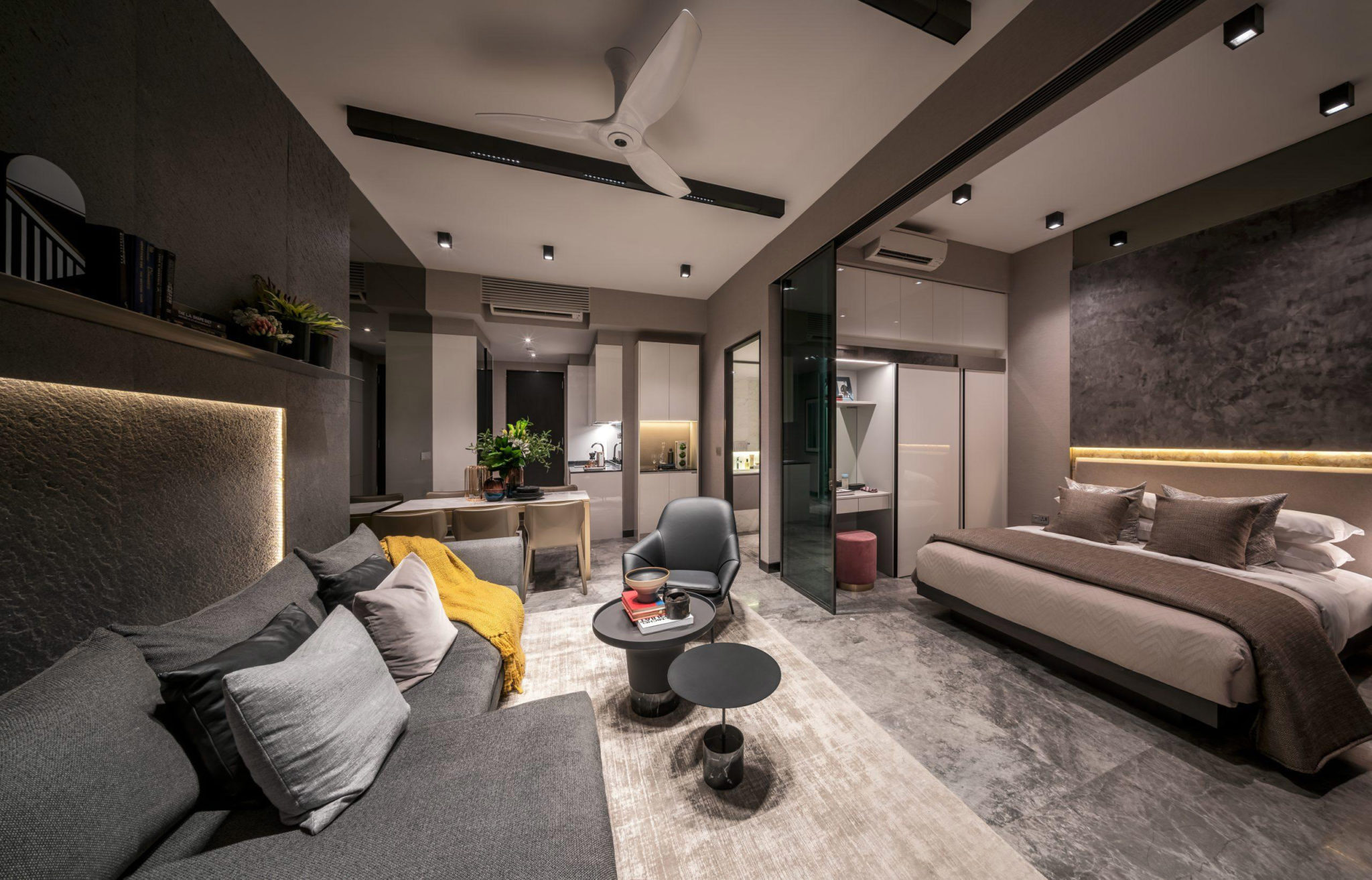 Lentor Modern Showflat
Please make an appointment here before going down to view Lentor Modern Showflat. Our showflat may be closed on specific days owing to monthly normal maintenance work or for developer-hosted special events.
As a result, all guests are highly advised to book an appointment online before visiting Lentor Modern Showflat to avoid any potential disappointment or inconvenience.
Lentor Modern Showroom
Lentor Modern is the first mixed development in Lentor Hill Estate and it is set showflat preview in Q4 2022. For this exciting new launch is opening soon and it is located just minutes away from Lentor MRT Station.
Please be assured that any interested parties who have registered for an online appointment for Lentor Modern with us will continue to enjoy our Direct Developer Price with NO COMMISSION charged by you.
If you have registered for an online appointment with us. Please know that our Lentor Modern developer sale team will contact you within 1-2 hour to confirm your appointment.
Make An Appointment Get the best price
Register now for showflat & direct developer price with no commission charged by you.
Lentor Modern Location Map
Premium quality housing with great amenities.
Many units will have a clear unblocked view because Lentor Modern will be mostly surrounded by landed enclaves. Some of the major
nature reserves parks in the area with magnificent views include lower peirce reservoir park, upper peirce reservoir park, thomson natural park, lower seletar reservoir park, and upper seletar reservoir park.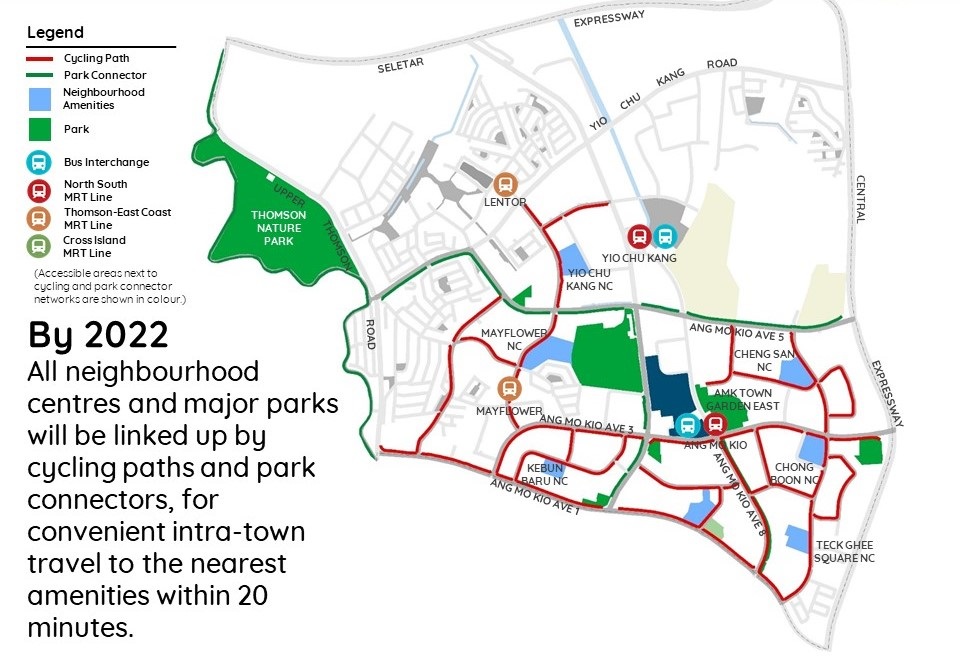 The Lentor Modern, which is situated near the upcoming Lentor MRT station, is a new neighborhood built a top an existing hilltop. Between Teachers Estate and the Lentor MRT station, new parks will be developed, as well as commercial facilities to serve the community. Further seamless pedestrian and cycling linkages will be provided.
The Urban and Development Board (URA) has a private residential site in Lentor Central, as part of Government Land Sales (GLS), in 1st quarter of 2021, the land parcel is about 3 minutes walk to upcoming Lentor MRT Station. The land parcel located within 3 mins walking distance to Lentor MRT Station, on Thomson-East Coast Line (TEL). Lentor, in the Northern Region of Singapore.
About Lentor Central
Lentor Central is a new development located at the centre of Lentor Hill Estate. It comprises a gross floor area of approximately 10,000 square metres and will feature a wide range of amenities for residents. These include a community centre, retail outlets, a childcare centre, and a food court. The development will also have direct access to the coast line, and is within walking distance of Presbyterian High School, Anderson Primary School, and Chij St Nicholas. The launch date for Lentor Central has not been announced yet, but it is expected to be completed within the next few years.
Benefits that Lentor Modern Residents will Enjoy Living in Ang Mo Kio, District 22 of Singapore
Lentor Modern is a Singapore residential development in Ang Mo Kio, District 22. It offers modern homes with various features and layouts that are available for sale or lease. These include detached bungalows, terrace houses, duplexes and townhouses as well as apartments of various sizes ranging from one-bedroom to five bedrooms.
The diverse residences at Lentor Modern offer residents different living options so they can choose their preferred home layout according to their preferences and needs. The wide range of housing types offered by the development helps meet the varied needs of its residents who want an apartment close to amenities such as schools or work places but also need more space for family life too!
Connectivity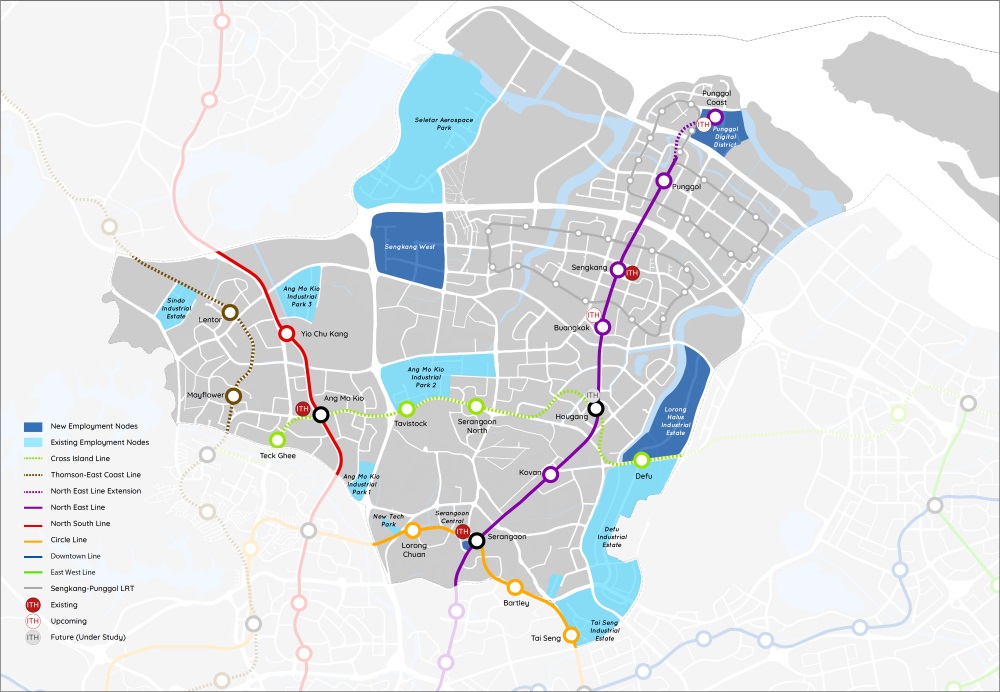 The new Lentor MRT Station (on the Thomson-East Coast Line), which will open before Lentor Modern Condo TOP.
Residents will be able to use the Thomson East Coast Line and have fast and easy transportation to the City area and other sections of Singapore by then. By 2025, the TEL is projected to serve approximately 500,000 passengers daily and 1 million passengers daily in the long term, connecting to every current MRT line. Residents may travel to the Orchard MRT Interchange in nine stops and the OutramPark MRT Interchange in 12 stops thanks to Lentor MRT. The interchange between the MRT and Marina Bay will also be accessible directly from the Lentor MRT.
Residents in the north-east will enjoy shorter and more convenient journeys. With the completion of the Thomson-East Coast Line (TEL) and the Cross Island Line (CRL), the area will be serviced by five MRT lines by 2035. Improved access to facilities and seamless intermodal transfers will be achieved through new Integrated Transport Hubs.
Over the next 10 to 15 years, the cycling network will be substantially expanded. Residents may now have quicker commutes for living, working, and playing across the island.
condominium Nearby Amenities
The new Lentor Hills estate include Lentor Modern. This will be a quiet neighbourhood with mostly low to mid-rise residential buildings and landed residences. Parks, reservoirs, and natural reserves are also close by. Residents will thus be able to see greenery in the neighboring landscape and have unobstructed views of the landed enclave.
It contains 5 routes in the old Hainan Village road network, each of which is 3.8 KM long. Lentor Modern is also close to Bishan-Ang Mo Kio Park, one of Singapore's biggest parks. The park has a wide range of flora and wildlife, as well as numerous water activities for children to enjoy.
Shopping Malls and Retail Space
Residents may go to Thomson Plaza, which has numerous retail stores and restaurants to serve their needs, for dining, shopping, entertainment, and leisure facilities. Ang Mo Kio Hub and Northpoint City Megamall, both a short drive up north, provide more entertainment, dining, and lifestyle choices.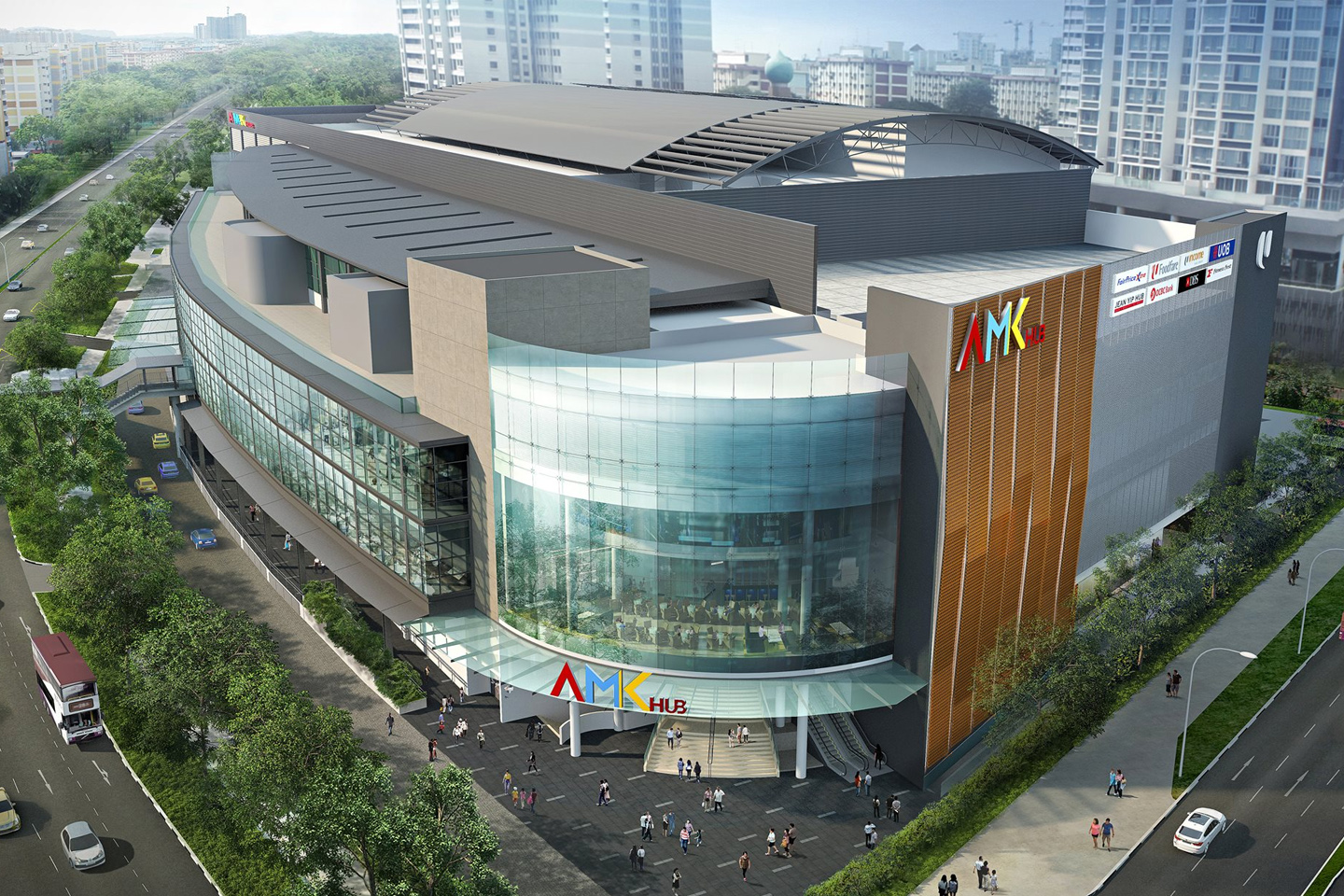 Education
Anderson Primary School
Presbyterian High School
Yio Chu Kang Secondary School
CHIJ St Nicholas Girls' School
Mayflower Primary School
Ang Mo Kio Primary School
Mayflower Secondary School
NanYang Polytechnic
Lentor Modern proximity Childcare
If you're looking for a condo with convenient childcare options, Lentor Modern is worth considering. This mixed development offers a 10,000 sqft childcare centre within the building, so you can drop off your little ones with ease. Plus, it's just a short drive to Anderson Primary School, Anderson Junior College and Nanyang Polytechnic. With childcare facilities on site and reputable schools nearby, Lentor Modern is a practical choice for families.
Lentor Modern proximity F&B
As a resident of Lentor Modern, you will appreciate the close proximity to a variety of food and beverage options. The development boasts a commercial component that includes F&B outlets and supermarkets, providing convenient access to daily necessities. Additionally, the ground floor will offer commercial spaces for retail and F&B outlets. Beyond the development, you can explore nearby nature parks and enjoy a variety of dining options in the surrounding area. Lentor Modern's Public Plaza is flanked by F&B units, making it a great place to grab a meal or meet friends. With so many options near your doorstep, you will never have to go far to satisfy your cravings.
Recreational
Furthermore, Thomson Nature Park, and Singapore Zoo are among the places for dining and entertainment for future residents. In addition, clinics and hospitals, as well as a coffee shop and boutique stores, are available.
The Future of Ang Mo Kio and How it Affects Lentor Modern Residents
The future of Ang Mo Kio is looking very bright, with many new amenities and developments planned for the area.
One of the most exciting new developments is the Lentor Modern showflat, which is set to be expected completed in 31st September 2026. The Lentor Modern development will feature a variety of new amenities, including a Thomson Nature Park, a coast line, and a thomson nature park.
The developers have also released a master plan for the development vicinity, which includes a variety of new features and amenities. The Lentor Modern showflat is currently open to the public, and the developers are currently accepting reservations for units in the development.
Lentor Modern Developer
The Lento Condo will be developed as a three-tower mixed-use development with 605 residential apartments, commercial, food and beverage, and retail space on the ground level.
With the highest bid of $784.1 million, GuocoLand was chosen as the winning bidder for the new condo at Lentor Central. The land charge is $1,204 per square foot per plot ratio, or $12,964.83 per square metre of gross floor area.
Since 1978, GuocoLand Limited, a prominent real estate developer headquartered in Singapore, has been listed on the SGX. In Singapore, Malaysia, and lately Australia and the United Kingdom, the regional property developer has set up shop. Property investment, development, management, and hotel operations are the company's main services. The firm has acquired an array of assets ranging from hospitality, residential, retail, commercial, and integrated developments with a focus on scaleability, growth, and sustainability.
Lentor Modern By Guocoland
Lentor Modern will be developed by GuocoLand, a premier property company with operations in Singapore and the region, such as China and Malaysia.
Sims Urban Oasis
The prime residential property with 1024 units is Sims Urban Oasis by GuocoLand. The project is near to a variety of amenities due to its strategic location at Aljunied Road and Sims Drive. Kallang Riverside, CBD, and Paya Lebar Sub Regional Centre are all within 350 meters of Aljunied MRT Station. The facility meets everyone's needs with easy access to amenities.
The Waterline
The Waterline, located in a private area off Yio Chu Kang Road, is also owned by GuocoLand Ltd and developed exclusively for them. Hougang 1, Hougang Mall, and Nex Shopping Mall are all within close proximity to The Waterline. Serangoon Junior College, Montfort Secondary School, and Rosyth School are just a few of the well-known schools nearby. Commutes within and outside the neighborhood are made easier by the nearby Serangoon MRT Hub and important expressways like KPE and CTE.